College and Career Day Presentation
To view/download the College and Career Day Presentation click here:
https://docs.google.com/presentation/d/1cLI0g9nWAvmHGXJ8Z9rnsVsatanUE5EBrmg92iz_ODY/edit?usp=sharing
Important Reminder: Re-Registration Materials
Please return the re-registration materials for the 2017-18 school year you received in 2nd period on 2/23/17.
Sickle Cell Research Summer Opportunity
The Atlanta Sickle Cell Summer Research Program
is sponsored by the National Institutes of Health and conducted by Morehouse School of Medicine, Emory University Division of Pediatric Hematology/Oncology/Bone Marrow Transplantation, and Georgia Institute of Technology.
The application link will be accessible beginning next week 2/1/17, and application will be accepted until 3/31/17
.
Last Call for Yearbook Ads!!!
Don't miss this opportunity to honor your student or create memories with your besties in a group photo!
Memories are fleeting; yearbooks are forever!!
Ads are available as a whole page ad, half page ad, or ¼ page ad.
See any yearbook staff person for assistance, or you can go to the
Yearbookforever.Com
website and purchase your ad there.
The deadline is Tuesday, February 28th!!
Grady Mock Trial Wins District Competition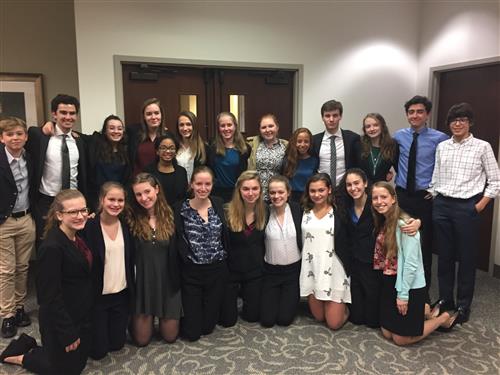 This past Sunday, the Grady Mock Trial Team won the District Mock Trial Competition. By winning District, they have now advanced to the State Competition on March 4th to compete against the other top 7 teams in the state. Below, are the students that were recognized for their outstanding performances.
Outstanding Witness: Audrey Dwyer
Outstanding Attorney: Nina Stern
Outstanding Attorney: Katie Earls
District Finals (Round 3)
Outstanding Witness: Eric Tischer
Outstanding Witness: Carolyn Capelouto
Outstanding Attorney:Katie Earls
Outstanding Attorney: Nina Stern
Grady Debate Team Performs at Harvard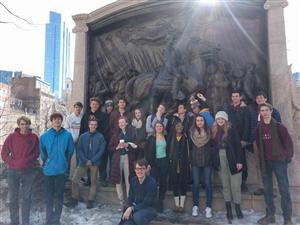 This past break, members of the Speech and Debate Team competed at the Harvard University Speech and Debate Tournament in Cambridge, MA. The students did quite well and we had a great time learning and building snowmen! The tournament was large: 4,000 students from 44 states and 11 countries. It was an amazing experience!
Congrats to Sam Lombardo who placed in the top 40 and Gregory Fedorov placed in the top 10, both in Extemporaneous Speaking.
Grady's Counseling Department Earns Move on When Ready Transportation Grant
The school counseling department has earned the Move on When Ready (MOWR) Transportation Grant through Georgia Student Finance Authority to offset the cost of transporting MOWR students to and from post-secondary institutions. Grady High School's goals are to increase the number of high school graduates who are college and career ready and increase the number of students enrolled in dual credit programs. MOWR transportation is an integral component of meeting these goals. The grant will assist in removing transportation barriers for students. The grant will cover the cost of round trip transportation for students for the 2017-18 SY. Interested students must meet with their counselor for more information.
Who is Eligible to Apply for MOWR?
· 9th -12th grade students
· Students on track for graduation
· Students who meet post-secondary institution admission requirements (i.e. GPA, ACT/SAT)
· Students who apply to the post-secondary institution by their deadline
· Students who receive MOWR approval from their counselor
· Students who maintain satisfactory academic progress as defined by the eligible
post-secondary institution.
All University System of Georgia Institutions participate in MOWR.
Notice to All Stakeholders Concerning Sex-Education Instructional Materials Review